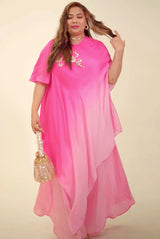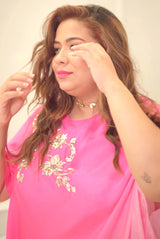 Asymmetric Tunic and Flared palazo with hand work detailing in tunic
...
Fabric: Cotton Satin
Color: Ombre Hot Pink
Care Instructions: Dry Clean & Steam Press Only
Delivery Time: 28 Days
1. What is the Shipping policy?
At A.projeKt, we offer chargeable shipping across India through our reliable delivery partners. Shipping durations may vary based on order size, typically ranging between 21 to 28 days. While we strive to ensure timely deliveries, factors beyond our control might cause occasional delays. As soon as your package is shipped, you'll receive an email containing your tracking details. For international orders, please place an order on whatsapp +919414007777

2. What is the Cancellation & Return Policy?

We adhere to a strict no-cancellation policy. Once an order is placed and confirmed, cancellations won't be possible. Each garment is uniquely crafted upon order, so we can't accommodate exchanges or returns, except for sizing or alteration issues. If you encounter such issues (excluding sale orders), contact us at aprojektwork@gmail.com within 48 hours of receiving the product. Our team will guide you through the alteration process. Should you need to return an item due to alteration concerns, please do so within 7 days from raising the issue. While you're responsible for couriering the return, we'll take care of the delivery. In case your order arrives damaged, email us at aprojektwork@gmail.com with a photo and video showcasing the damage, along with the product code, within 48 hours of delivery.

3. Why is the bandhej print different from the photo?

Bandhani, a splendid textile art from Rajasthan, involves tying and dyeing fabric to create diverse patterns. Since all our bandhej pieces are hand-tied and dyed, each one is unique. As a result, achieving the exact print, placement, direction, and design as shown in photos is not possible.
4. Why is the colour of my garment different from the photo?

Minor variations in color from the product image are possible. Sometimes, cameras and computer monitors can't perfectly replicate the human eye's perspective. Lighting during photography can also contribute to slight differences. While we aim for accuracy, some variance is inevitable.
5. How to get a garment customised as per a different size or colour?

We're thrilled to create a garment tailored to your color preference and specific measurements. Custom measurements would incur an additional charge. To initiate the customization process, send us an email at aprojektwork@gmail.com or message us on WhatsApp at +919414007777. Don't forget to attach a screenshot of the desired garment.
6. Why is the Colour bleeding from my outfit?

Due to the intricate hand tie & dye process, some color bleeding can occur when exposed to moisture and sweat, which is a characteristic of this unique craftsmanship. We use colour fastners in bright colours but they still tend to bleed. While we've taken steps to minimize this, it's an inherent aspect of the handcrafted nature and shouldnt be seen as an imperfection. Since this is the nature of the craft, we won't be able to do exchanges or returns based on the color bleeding.